NEST Iriomote is located in Uehara area called Sumiyoshi Village.
There are nice beaches and spots such as Star Sand Beach, Moon Beach, Secret Beach, Sunset & Star Spot Unarizaki Park, and more within 10 minutes.
Hotel is constituted 3 pool front rooms and cafe & bar.
You could access pool directly from your room.
The room is designed simple & modern 32㎡ wide. There are 2 queen size bed and open made bathroom.
Beer, Cocktail, Wine, Shampagne, and Soft drinks and Light Meals are available at Cafe & Bar.
It is open at Irregular time Business.
We have managed Outdoor Tour Guide Service since 2009.
It is on inside a premises of NEST, so you could ask about tours directly from our professional guide and book tour.
* Reccomend previously booking at Summer Holiday Season.
* Hotel NEST Iriomote is in the Iriomote Island's north cast area.
You need to take Ferry from Ishigaki port to Uehara Port (Iriomote).
Takes about 50 minutes and ¥4570(round trip) from Ishigaki.
When you buy a ferry ticket to Uehara port, please also ask for a shuttle bus ticket.
You could take a shuttle bus to NEST Iriomote from Uehara port.
* If you rent a car, there is a parking space in NEST Iriomote.
Business hours
Business hours
Check in
15:00
Check out
10:00
Breakfast
7:30~9:00
Cafe & Bar
Afternoon irregular time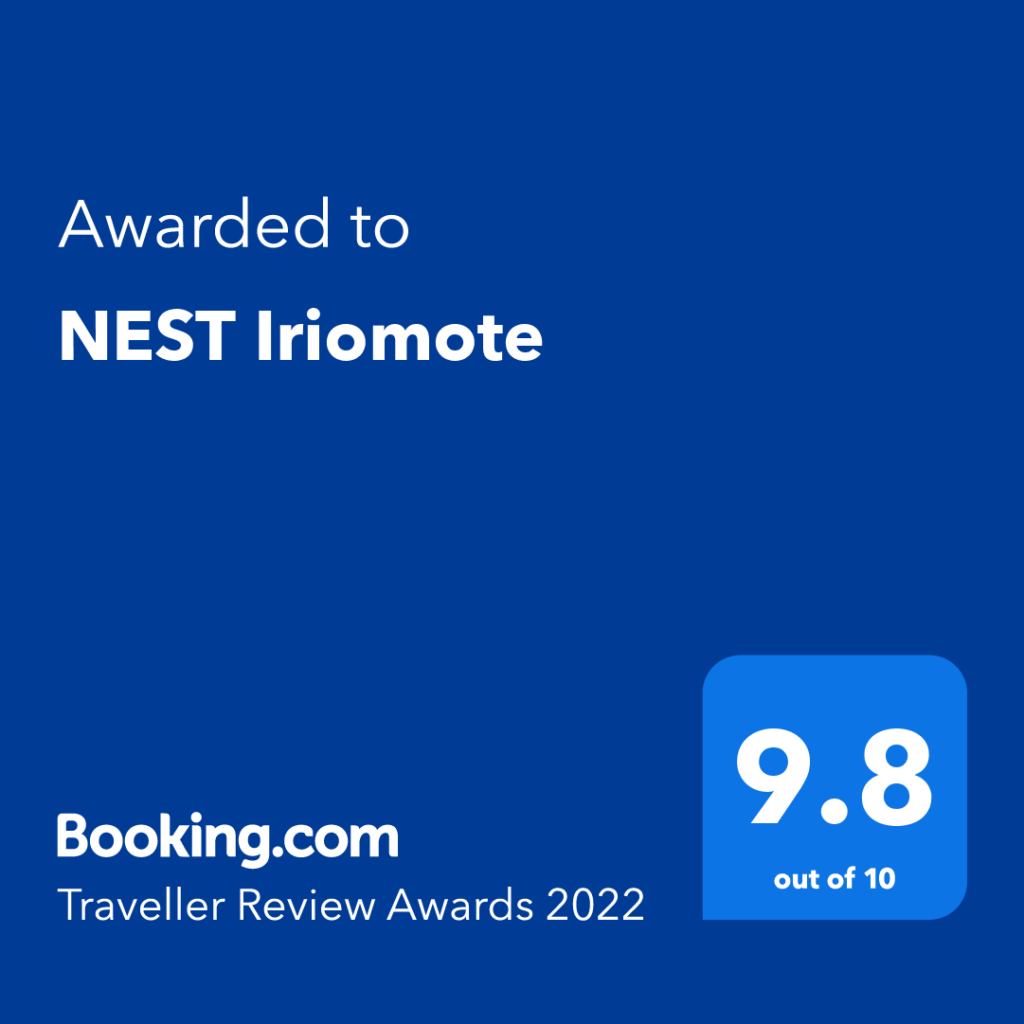 Traveller Review Awards 2022!! Thank you very very much.
Cafe & Bar
Irregular time Business
Beer, Wine, Champagne, Cocktail, Light meals, and Snacks.
Breakfast here. (need a reservation)
Pool
All room are pool front.
You could go pool directly from your room.
Hope you could enjoy luxurious time and forget the time.
*POOL Close During Winter Time Between January to Binning of March.
Cautions of using pool
*NO LIFEGUARD
*ON DUTY
*Children Must Be Supervised At All Time.
*Please Do Not Use Pool, If You Drunk
*Please Use Pool Towel.
Tour Activity