When you come to NEST Iriomote!!
You need to take a Ferry from Ishigaki port to Uehara Port (Iriomote). There are 2 ports in Iriomote Island. North port is Uehara, and South port is Ohara. Hotel NEST is in Uehara area.
The ferry takes 50 minutes & about ¥4000 (round trip) from Ishigaki, and take a shuttle bus 10 minutes from Uehara port to NEST Iriomote.
When you buy a ferry ticket to Uehara port, please ask for a free shuttle bus ticket also.
You could take a free shuttle bus to NEST Iriomote from Uehara port. Tell bus driver your destination "NEST."
Note: Winter season November to March, The Ferry from Ishigaki to Uehara is often cancelled due to North wind and High wave.
When the ferry to Uehara is cancelled, you need to take a ferry from Ishigaki to Ohara port ( other North side ) and take a shuttle bus from Ohara port to Uehara Port. The distance from Ohara to Uehara is about 30km and it takes 50 minutes by bus.
* Please go buy a ticket from Ferry Desk at the Ferry Terminal, and ask for Uehara port. They will give you ferry and shuttle tickets to Uehara area (also to Nest Iriomote). They will help you.
Info: If you will go another Islands around Yaeyama area, there is a Island Hopping Path ticket for 3 ~ 5 days. You should get this ticket !! Much cheaper. Ask this ticket at the ferry counter when you buy a ticket.
Spots Around The NEST
There are nice beaches and good spots such as Star Sand Beach, Moon Beach, Secret Beach, Sunset & Star Spot Unarizaki Park, and more within 10 minutes. Also there are some restaurants, and Izakaya around NEST within 5 minutes, so you could go dinner by work.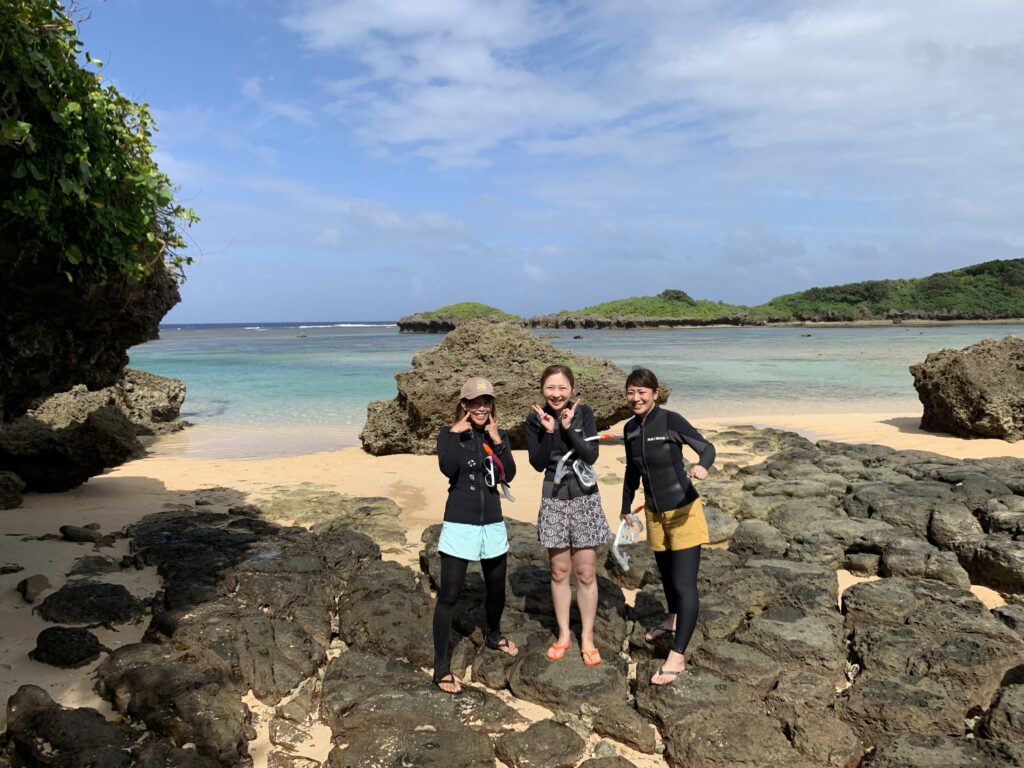 Tour Activity
We have managed Outdoor Tour Guide Service since 2009 called Iriomote Osanpokibun Tours.
It is on inside a premises of NEST, so you could ask about tours directly from our professional guide and book tour.
* Reccomend previously booking at Summer Holiday Season.